Raise Funds
Fundraising Timeline Templates on Non profits
Fundraising is a daunting task for any business - let alone for a Non Profit. This blog is a guide that'll help you get ahead of the crowd.
By teammarquee . December 27, 2022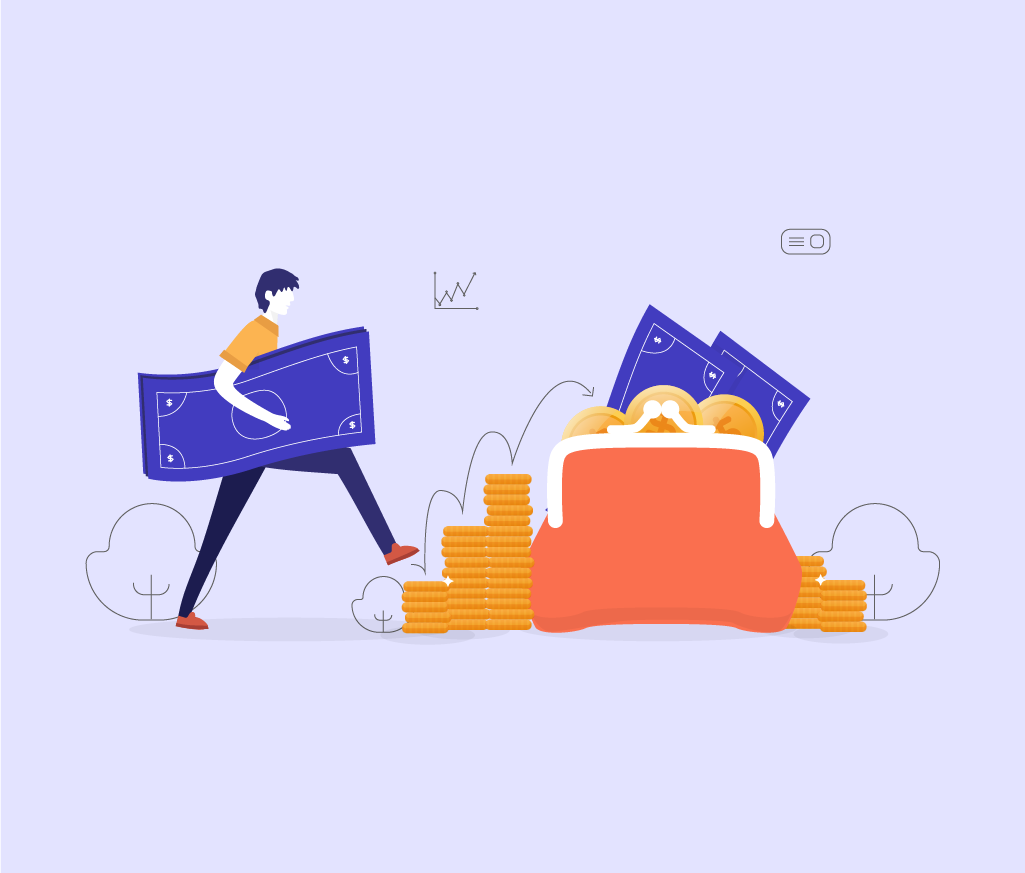 Over the years, a lot of non-profits have changed the world – UNICEF, Bill & Melinda Gates Foundation, World Wide Fund for Nature or WWF are some of the most popular organisations. A common denominator amongst these nonprofits, while having profound ideals to follow, is how they work. They have measurable goals, know when they plan on achieving them, know where they stand in terms of resources, and finally set ways to achieve their targets.
Although the impact which you want is meaningful, that alone is not going to be enough to raise money. Rather than only focus on what you're fundraising for, focus on how you're going to do it. You must have a game plan for your fundraising campaign. As professionals, we'll help you follow a strategic fundraising approach by helping you out with a fundraising plan template:
Set Goals
Make a Timeline
Fix a Budget
Finalise Your Fundraising Plan Calendar
Create a Gift Range Chart
Fine-tune Your Plans & Delegate Roles & Responsibilities
Step 1:
Define What You Want to Achieve – Set Goals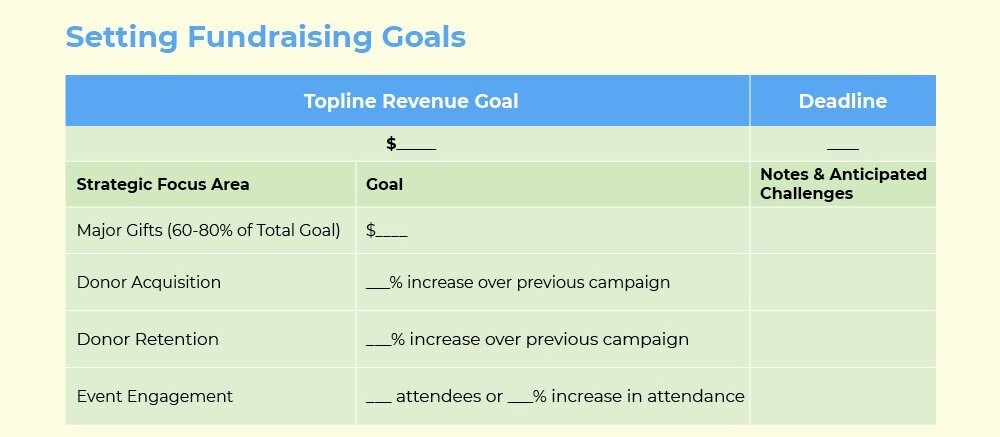 Your Topline Revenue Goal: It's the measurable target which will bring to fruition your fundraising ideas.
Your Strategic Focus Areas:
Donor Acquisition – This is how many donors will donate to your cause
Donor Retention – The number of existing donors who will donate further to your current projects
Event Engagement – The total attendance or contributions of all the donors who attend your event/campaign.
Challenges: It's imprudent to not include any expenses caused by potential challenges. Obviously, you cannot predict what you might face, but having an estimate and a general idea about the problems you're most likely to face will help if needed.
Step 2:
Fix a Schedule – Determine the Start and End Date of Your Campaign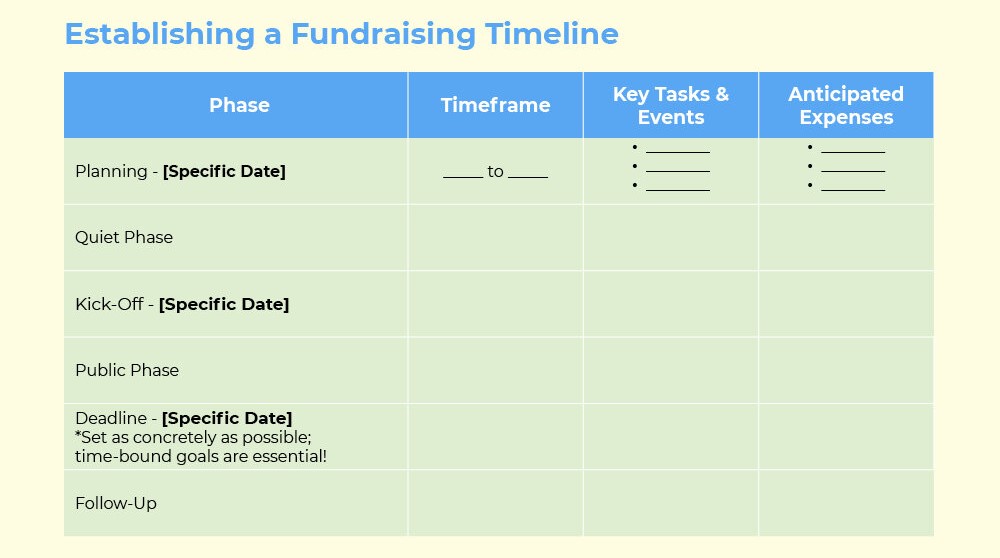 This is a very important fundraising strategy template because it is at the core of your fundraising. You must know where you are on the timeline to raise money so that you don't lose momentum early on. It comprises the:
Planning Phase – Before your fundraising campaign, you'll need to spend a lot of time working on your fundraising strategy template. It is crucial to be prepared.
Quiet Phase – This is when your efforts to raise money have already started, but have not yet been publicly announced.
Kickoff Phase – This is an event or celebration marking the start of your fundraising ideas and putting it into execution in the public eye.
Public Phase – This part of fundraising for nonprofits is when you publicly raise all the donations you have received. It is similar to the Kickoff Phase.
Conclusion and Follow-Up Phase – This would entail fulfilling the promises you made during the campaign, sharing reports, and giving thanks and gratitude to the contributors and your staff.
Step 3:
Draft Your Budget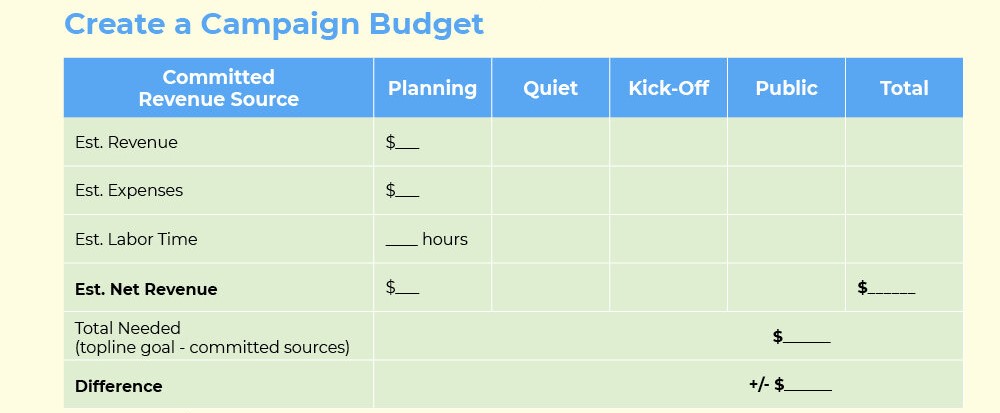 Points to Keep In Mind:
Study past trends – Judging by past numbers can be a useful way of understanding where you might stand realistically. It helps ground your expectations and puts useful numbers in your calculations. Look at trends in the past revenue sources, how much the cumulative proceeds were, expenses and if the targets were reached in the allotted time.
Be prudent: Being realistic about your expenses will allow you to take the necessary steps in unforeseen expenses were to occur. It's always a good idea to have a safety net.
Be informed and update your figures – Numbers that are already on the budget might have to be changed. Keep an open mind, be flexible and account for all changes in numbers.
Step 4:
Complete Your Calendar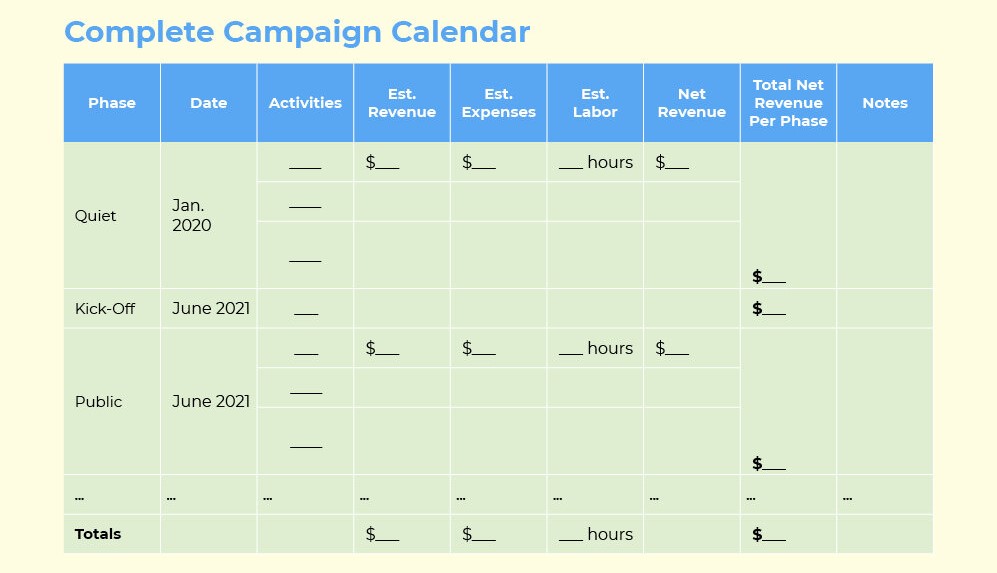 Doing this would put your plans on paper. Your diary should be marked with each phase with the planned for:
Phase
Date and Activity
Estimated Revenue, Expenses, and Labour
Net Revenue, Total Revenue and Notes – if any
Step 5:
Generate A Gift Range Chart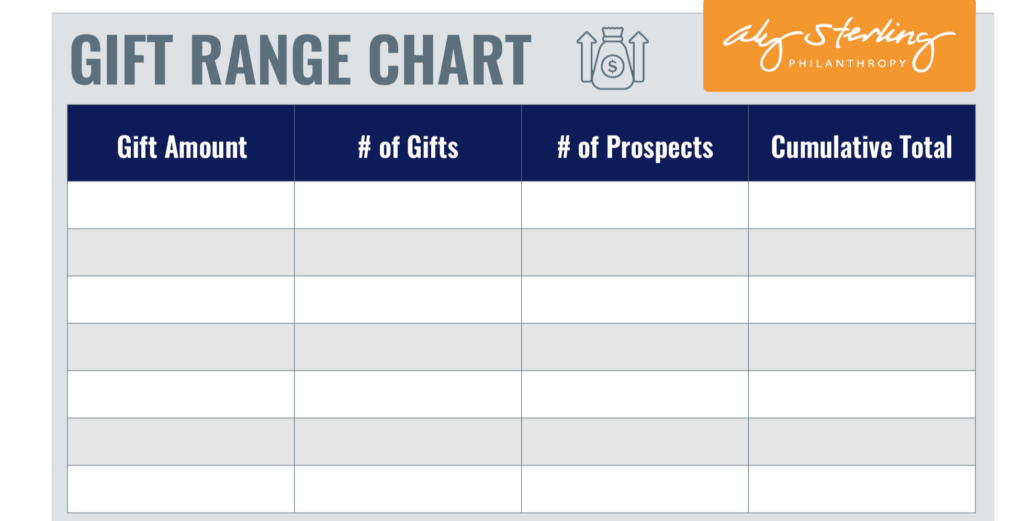 Ideally, major gifts should be around 60-80% of your campaign's total revenue goal. They are the most direct and influential way of reaching your financial targets. A key point here is that the higher the amount of your gift, the more time it might potentially take to secure. Segregating your sales efforts into tiers will greatly enhance the efficacy of your process.
Step 6:
Fine-Tuning Your Plans and Delegating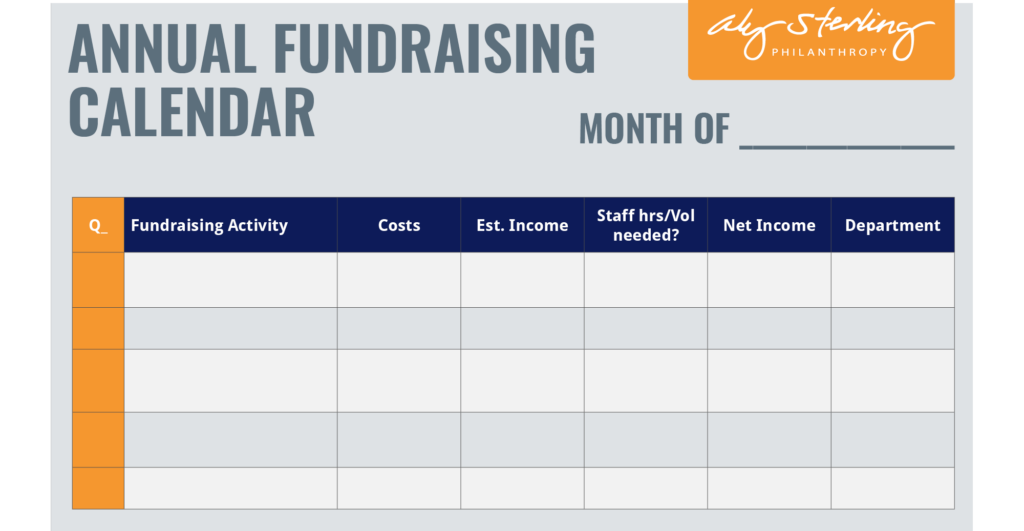 As with anything else, the more you delegate responsibility, the faster and more efficiently your work gets completed. This is the phase where you fill in the gaps in your plans as new information is received, and you delegate tasks to different people or departments. This is also the phase wherein you might want to:
Conduct a feasibility study
Review Your Plans and Make Changes
Hire a fundraising consultant
Tying It All In
And there you have it! Your very own fundraising strategy template. Unfortunately for nonprofits, just having virtuous intentions is not enough, you need a strategic fundraising plan – with concrete, measurable goals, and targets. Only then do you stand a chance of raising funds. At Marquee Equity, we understand that it's a brutal world out there and fundraising for nonprofits can get brutal. As seasoned veterans, we know what works and what doesn't. Let us help you get your dreams off the ground. Call +1-213-600-7272 now!
Related Articles
We optimize & accelerate growth for already great products.
---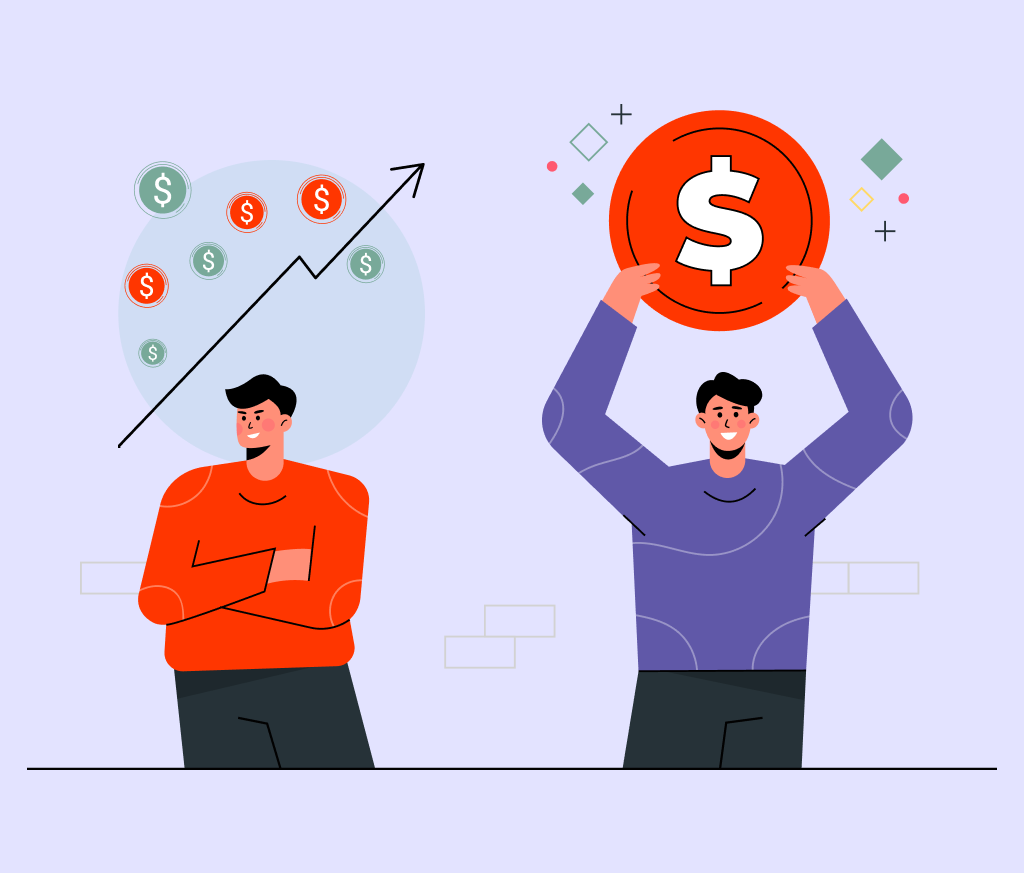 Venture Capital Funding: What You Need to Know
Venture Capital Funding is a dynamic financing avenue for startups, involving investors providing capital in exchange for equity. Key considerations include a robust business plan, team expertise, and market potential. The funding process spans various stages, from seed to Series funding, with exits through IPOs or acquisitions. Understanding this landscape is crucial for aspiring entrepreneurs.
The strategy steps are; to set goals, make a timeline, fix a budget, finalise your fundraising plan calendar, create a gift Range chart, fine-tune your plans & delegate roles & responsibilities.
A common denominator amongst major nonprofits, while having profound ideals to follow, is how they work. They have measurable goals, know when they plan on achieving them, know where they stand in terms of resources, and finally set ways in which to achieve their targets.