Raise Funds
The Fundraising Documents Founders Should Have Before They Pitch
Imagine being in the conference room with the investors, pitching your business only to find that you don't have all the necessary fundraising documents. Sounds stressful, doesn't it? Let us help you.
By teammarquee . April 22, 2022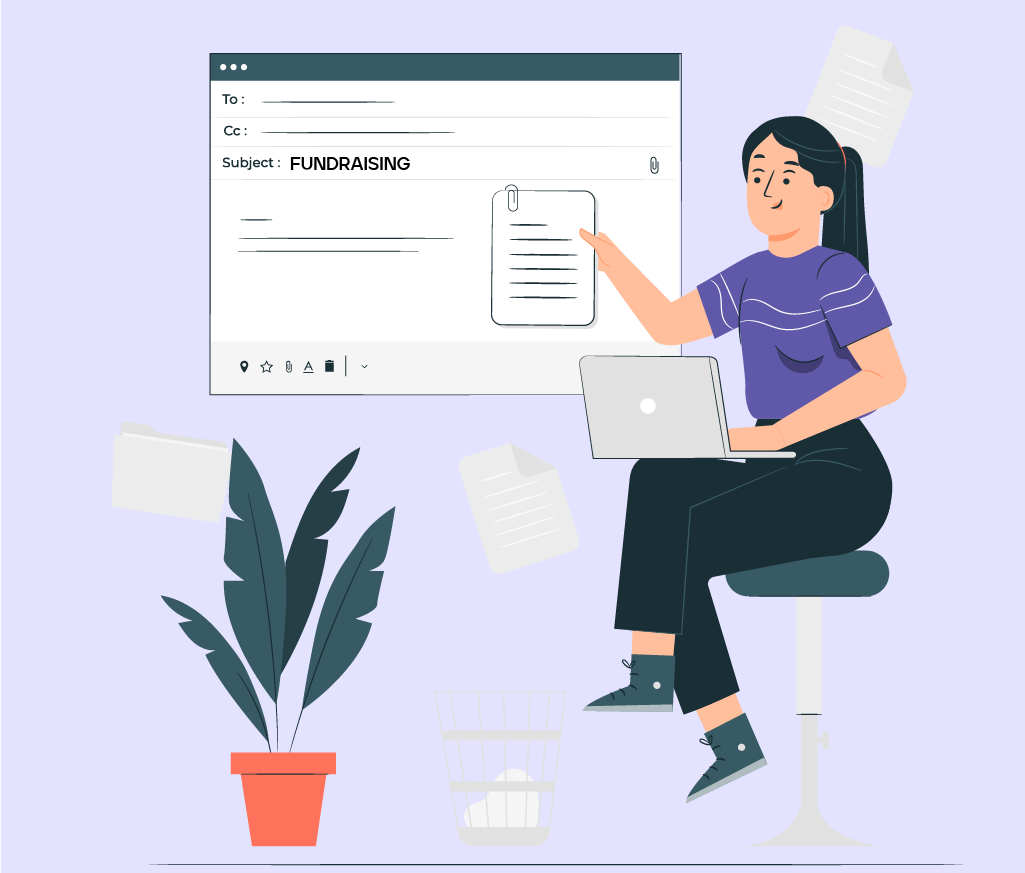 The fundraising process can be nerve-wracking. There are a number of things an entrepreneur has to prepare for. They have to make the perfect pitch, gather all the validations of their product or service's adoption, and network with the right set of investors who are more likely to invest in their business. 
Amidst all of this, they also have to gather all the right documents which are duly updated according to the stage their business is at. Imagine being in the conference room with the investors, pitching your business only to find that you don't have all the necessary fundraising documents. Sounds stressful, doesn't it? What if we told you that it happens more commonly than you know? 
Our intent today is that through this article we will prepare you with information you need around knowing which are the top fundraising documents that you need to have before you schedule a meeting with the investors.  
Noting the cruciality of business funding documents, let us get into it right away. 
The fundraising documentation you should prepare 
There are a number of fundraising documents that you should have ready and updated before you meet the investors. The fact that there is an unclarity in terms of how the meeting would progress, knowing which business plans documents you would need is almost always unknown. 
However, there are some fundraising documents that our fundraising support team at Marquee always advise our clients to carry. 
1. Financial model and projections 
The financial documents are one of the first data points the investors look for in a business model deck. You should add in your past profit and loss statements and year-to-date statements for investors to measure your company's financial soundness. 
Another document you should include in the list of financial data points is projections – an information which would vary from one startup funding stage to another. Businesses which are at a pre-seed stage must show at least 3 years of annual projections while the ones which are at the seed stage should have a minimum of 5 years' estimations ready with them. 
If we had to list down the documents, it would look like this 
Revenue by segment 

Segment wise expenses

Cost of sales

EBITDA

Hiring and administrative expenses

Research and development costs, etc. 
2. A list of references 
References are oftentimes used by the investors to know about the founders they are going to partner with, the kind of advisors they have, and how the customers perceive the product or service. 
The references list should include –
Members of the management team

Business advisors

Current investors (if applicable)

Current customers
It is important to note here that there is a very huge chance that someone from the investors' team will be contacting the people you put down as references. So, it's important that you add people whom you know will give good feedback about your company. 
Marquee tip: When building your reference list, add in names, LinkedIn profiles, and affiliations of the contacts and provide the contact details only if asked. This way, you will eliminate the chances of your references getting annoyed from multiple calls. 
3. Equity distribution documents 
The next set of documents which you should have when you pitch for funding are the current and pro forma cap tables.They show the investors how the equities are presently allocated in the company and how it would change once the funding round is completed. 
You can add in the information about equity allocation like this – 
Founder 1 – X%

Founder 2 – X%

Present investors – X%

Allocated options – X%

Unallocated options – X%
What the investors want to see here is the detailed version of who owns what percentage in the company. It helps them decide on the valuation upon having a clear understanding of the revenue they will be getting out of this deal. 
So here were the three categories of documents that every entrepreneur should have before they meet the investors with their business pitch deck. Now while this is a comprehensive list, we know it'd help to get an idea of which documents to present at which fundraising stage.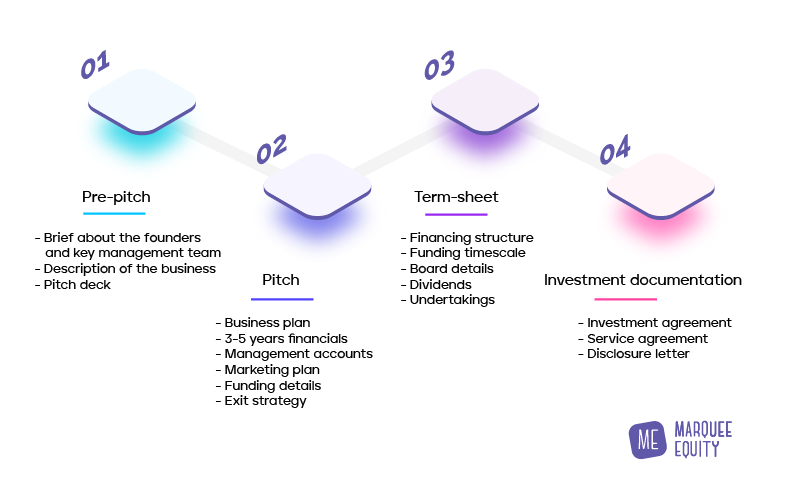 Parting notes
The list of documents we have enlisted in the article covers you for almost every possible investor query. We are sure that having an updated version of all these documents will get you brownie points from the investors.  However, before you present these data points to them, have your team run due diligence on them to ensure that they are up to date, follow all the compliances, and are consistent. 
If this seems too much for you to handle, get in touch with our fundraising assistance team at Marquee, one of the most trusted fundraising documentation companies on a global scale. We will help you collate the documents that would make your business pitch deck impossible to say no to. Schedule a call with our team, today!
Related Articles
We optimize & accelerate growth for already great products.
---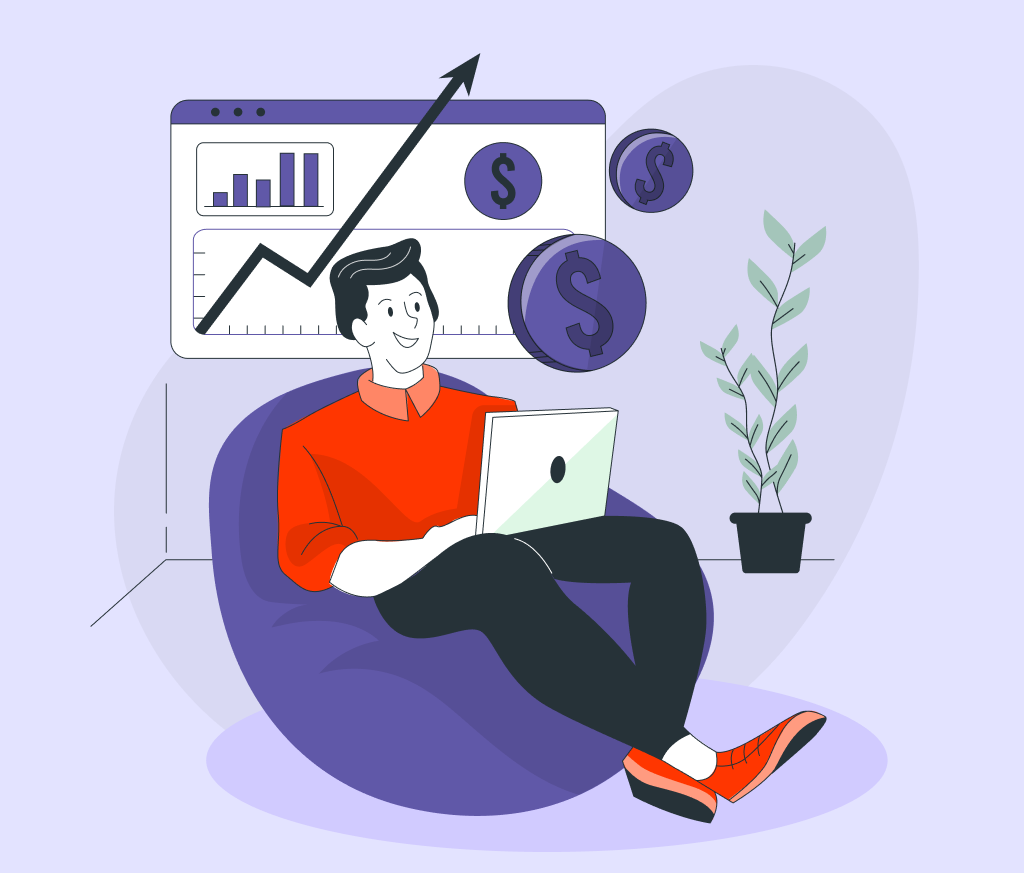 Demystifying the Venture Capital Investment Process
Unlock the secrets of venture capital with our comprehensive guide. Learn about the investment process, key players, and insider tips for securing funding. Demystify venture capital today!