Funding For Startups
Startup Growth Strategies to Prevent Your Startup From Failing
Boost your startup's success with effective growth strategies. Learn how to avoid common pitfalls and prevent failure with our comprehensive guide on startup growth strategies
By teammarquee . February 7, 2023

Being a startup business founder, you know better than anybody else that failure is part and parcel of life. Unfortunately, Startup failure is very common. According to Embroker, 90% of all startups fail, while 10% of them fail in the very first year of their incorporation. Witnessing a company you have invested your heart and soul into fail can be very upsetting or even crippling for the founders. To prevent such situations, one needs to understand what it takes to develop a successful startup business before investing their time or money into it.
Starting a business comes with its own risks, and startups are more prone to failure in their initial few years of incorporation. On average, a startup company only lasts for two years before failing or ceasing to exist for a variety of reasons. Some common reasons behind failure include poor management, uncontrollable finances, and a lack of vision for the future.
Given below are a few tips that will help prevent your startup from failing and help it grow steadily.
Ways To Prevent Startup Failure:
Finance Management
To be able to fund the entire organisation and keep it from failing, financial resource management is crucial. The regulations that must be adhered to include regular evaluation of the financial accounts, measurement of costs and income, and consideration of the eventual need for startup funding.
In other words, if you wish to speed up the expansion of your startup business, you must have the fundraising ideas that will help you acquire the necessary financial resources. According to one of the research on credit and growth, only 40% of entrepreneurs devote their resources to tactics that can generate long-term value.
Market Research
The first step to starting a startup company is conducting thorough market research. This kind of technology, used in surveys, assessments, and file information, enables an understanding of customers' true demands, interests, preferences, and profiles.
Market research is important to understand how the competition is growing, what kind of clients you should be targeting, and what your chances are of building a great business. Good market research will help you develop workable business models to execute your business startup ideas.
Assembling a Team
According to The Startup Genome Project, when compared to a starting team of two, a solo entrepreneur takes 3.6 times longer to scale and is 2.3 times less likely to pivot successfully. Create a balanced team to aid in your ability to think brilliantly, brainstorm swiftly, and scale efficiently. Even if you are a "jack of all crafts," locate team members you can constantly count on to make your business startup ideas a reality. Founders frequently hesitate to delegate work.
Compared to technical or business-heavy founding teams, balanced teams with one technical and one business founder raise 30% more money, have 2.9x more user growth, and are 19% less likely to scale prematurely than technical or business-heavy founding teams. Without a strong mentor, a great team would fall short. Spend some time cultivating enduring bonds with your advisors. Coachable founders are generally more successful and much more appealing to investors during fundraising.
Identifying Opportunities
Only by identifying the areas for improvement can a startup become more successful and increase the likelihood that it will remain open and draw in clients. To know how well your startup business is doing, how well your goods are made, or even what they require, you should ideally get feedback from your clients on a regular basis.
You must determine which areas of the startup need improvement, such as the production, administrative, or even maintenance operations, and consider how to do it.
Set Goals
In order to have your goals and objectives outlined and to know where your firm needs to go, you must follow the guidelines in your business plan and have a fundraising idea in place. In other words, this informs you of the steps you and your team must follow to advance the business.
You can use work techniques where everyone is aware of their responsibilities and complete them by a specific date, accomplishing the present improvement and growth metrics.
Being open to change
Startups that pivot once or twice have 3.6 times greater user growth, raise 2.5 times as much money, and are 52% less likely to scale up too quickly than startups that flip more than twice or never. After identifying the issue and reaching out to potential clients (i.e., the individuals whose problems you're fixing), examine the market as a whole. Who are your rivals, and how does your solution vary from those already in use? Is the market big enough to support expansion? Is the market growing or contracting? Are there any obstacles to entry? Is your company adaptable and able to change course when necessary?
Spend time examining trends, routinely communicate with potential clients, and keep your options open in case you need to pivot. Your odds of failing a startup business will decrease if you quickly react to real-world circumstances.
Attracting Customers Constantly
Customers make a business successful, in addition to money, since they are the source of startup funding to keep things going. Customers may be attracted in various ways, including through digital presence, sales channels, social media advertising, and other marketing tactics that you can customise according to your company's goals.
At this stage, we advise you to be highly familiar with the characteristics of your customers/clients, what your efforts serve, and why they result in sales.
Differentiation
Differentiation is a key characteristic that keeps a startup company from failing and eases the process of fundraising. It is feasible to draw an unlimited stream of consumers who want to satiate any demand by providing them with something completely novel that distinguishes your firm from its competitors.
Disruptive businesses stand out from their rivals and even succeed in altering the direction of their industry's growth.
Conclusion
According to the estimates, out of 1,000 new startup businesses, 800 fail during the first phase of growth due to the owners' disregard for several important issues. Thus, by paying attention to the aforementioned advice, you may raise the likelihood that your company will keep growing in the marketplace. ‌‌
Related Articles
We optimize & accelerate growth for already great products.
---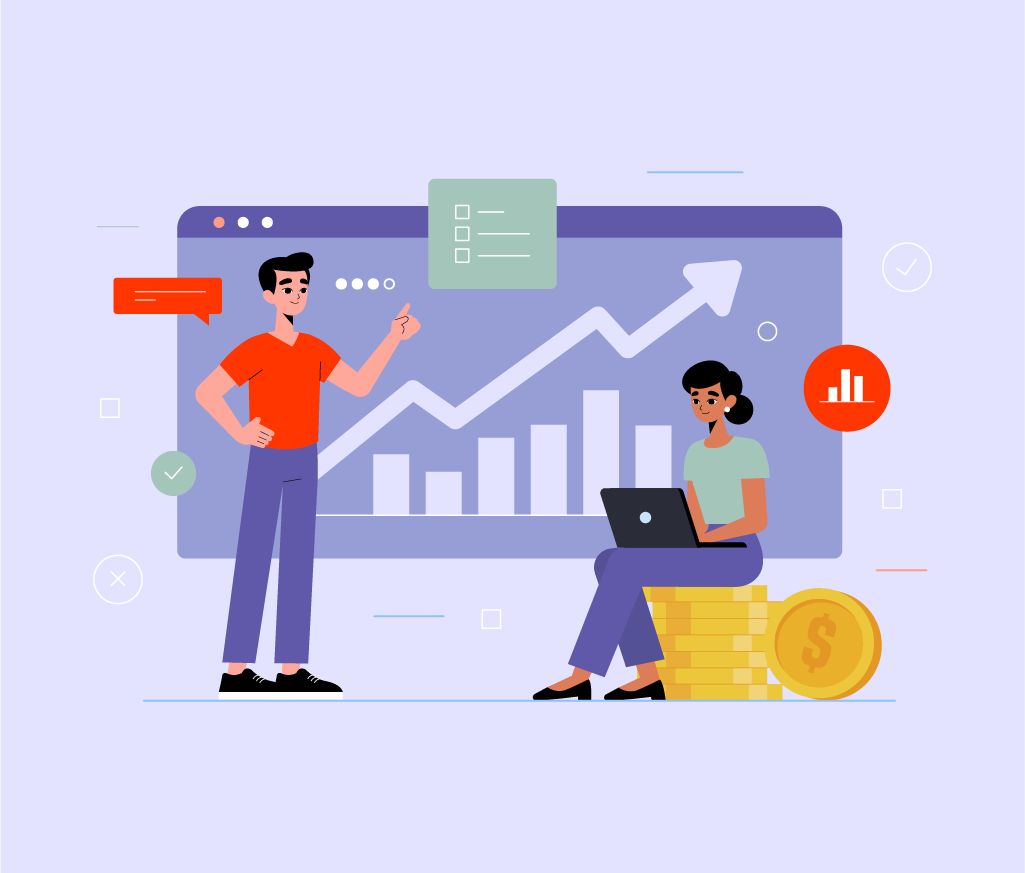 The Rise of Private Equity: A Comprehensive Overview
The ascent of Private Equity marks a transformative trend in investments. Fueled by flexible strategies, active management, and a quest for superior returns, Private Equity firms engage in diverse sectors, fostering growth and reshaping industries. This comprehensive overview explores its strategies, impact on businesses, and evolving role in the dynamic global economic landscape.
Right startup growth strategies ensure that your business is on the road to a prosperous future. These detailed plans come together by combining your target market, value proposition and goals. Startup growth strategies also include your content marketing and social media marketing strategies.
Here are the 6 Fundamentals growth strategies for a successful business: Know Your Value Proposition, Identify Your Target Audience, Establish Key Performance Indicators, Monitor Your Competition, Make Smart Hires and Scale Responsibly.