Mergers and Acquisitions
The era of digital acquisition
Digital merger and acquisition is changing how firms have been approaching the process in the era of digitalization. Know more about this change in trend.
By teammarquee . April 11, 2022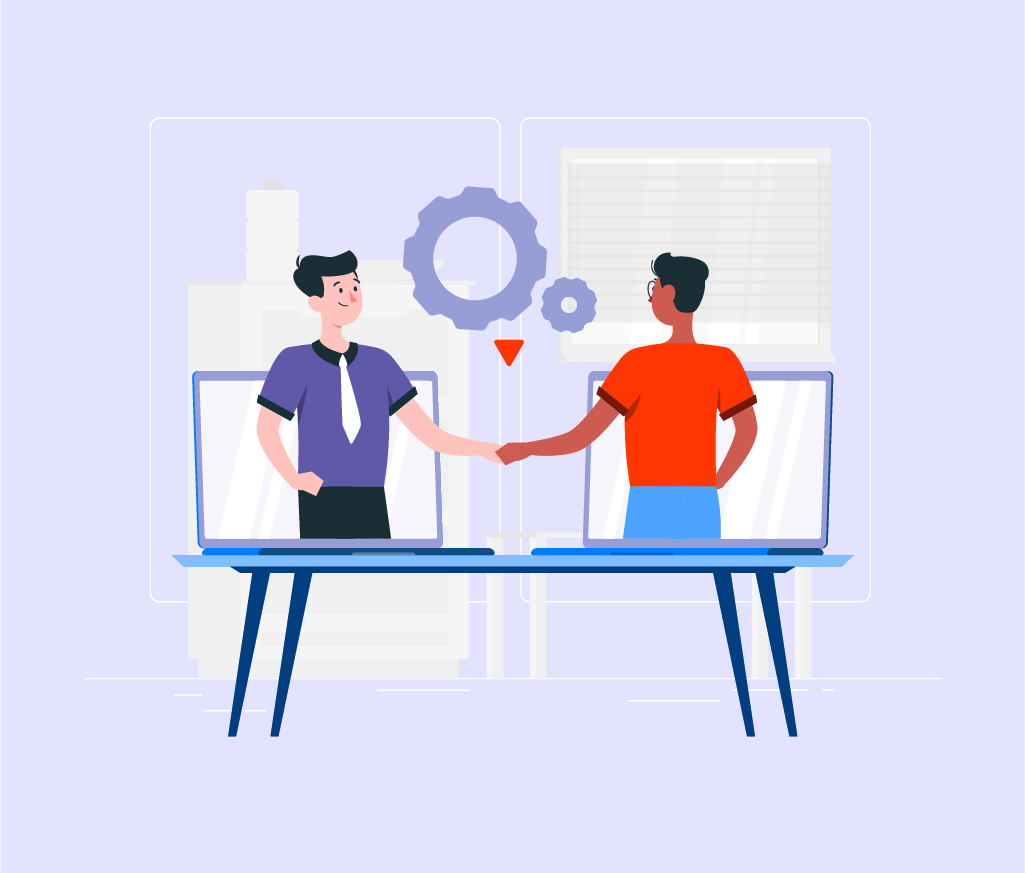 The most talked about event of the merger and acquisitions world today is digital M&A. There are several contexts of digital acquisition that are being floated around. One is the acquisition of a digital company and another, the one we are going to talk about today is the digitalization of the merger and acquisition process. 
Amidst the growing COVID-19 cases, almost every industry and their individual business operations have taken a turn towards digitalization. Mergers and Acquisitions are no different. Digital abilities can be added into the process in multiple ways with all of them hinting towards a common benefit of streamlined processes. 
In this article today, we are going to look into the different facets of digital acquisition and what it takes for an acquisition firm to join the bandwagon. But before we dive into that, let us address the differences of traditional M&A and Digital M&A first.
Digital M&A vs traditional M&A
The move towards digital-focused deal closing processes call for an adjustment to even the most generic M&A approaches. The traditional model of M&A valuation, due diligence, and integration will have to be reassessed for capturing the desired growth rate.
Digital acquisition calls for a more extensive technology based due diligence process, financial valuations based on both present and future events where the market won't be very favorable, and a digital acquisition integration strategy where the businesses are able to meet on the same digital ground in terms of everyday operations and expectations. 
In order to achieve this, there should be a proper digital acquisition strategy in place with clearly defined ownership and activities. The company must identify the level of post merger integration needed for unlocking the full potential of the acquisition. 
On that note, a detailed digital acquisition strategy highlighting where and how digital fits, or should replace the present business models must also be developed.
Now that we have looked into how the integration strategy for a digital acquisition varies from traditional M&A, it is time to get down to the benefits of having a digital M&A in place. 
The benefits of digitalizing your M&A process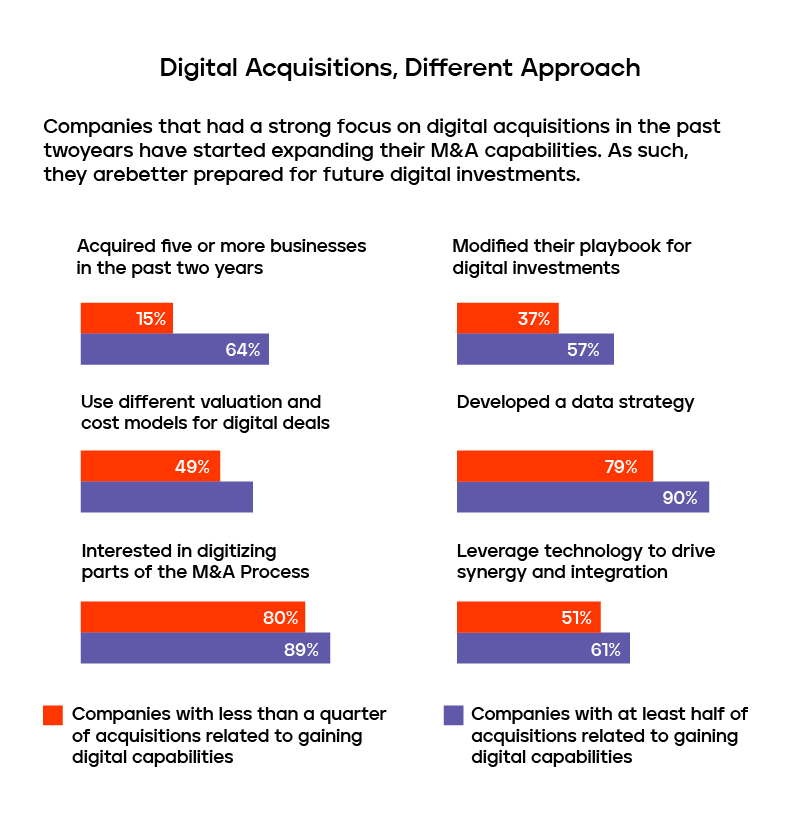 The process of digitalizing the merger and acquisition process comes with a range of benefits that could look like:
Elimination of lengthy TSAs

– Extensive Transactional Service Agreements (TSA) between the sellers and buyers will become a thing of the past very soon. It is true that they are pivotal to ensuring business continuity to the buyer, but what cannot be ignored is that they also delay synergies, lead to higher operational costs, lower the buyer flexibility, and increase the dependency they have on the seller.




With digitalization coming in the picture, the entire process and objective of TSAs are going to witness a shift. 

Emergence of as-a-service

– This one has a direct impact on the post merger integration. At

Marquee

, we have seen our clients shorten their TSAs from 36 months to 12 months. And once that is over, we help our clients in integrating a cloud based system in the existing architecture. It doesn't just help with expediting automation but also leads to standardization of processes. 

Brings impact-creating capabilities

– The majority of executives agree that they require to build new digital acquisition strategies. This sense of urgency comes from the fact that it helps them decide when to buy, whom to partner with, where to invest, and how to look at their existing business models for them to be successful in the post merger integration time as well. 
Now that we have looked into the many benefits that digitalization of the process brings, let us look into how to get started when you approach a digital acquisition target. 
How to digitalize M&A
Digital abilities can be applied into the standard merger and acquisition process in quite a few ways. But here are some that we advise to our clients when they are looking to make a successful acquisition.
Frame the buyer responsibilities
You should start with defining the buyers' responsibility from the earliest stages of the due diligence phase. Create a TSA services list broken down into services necessary for closing the deal compared to ones which are completely off limits. You should not let your organization's  current digital capabilities limit all its possibilities. 
Use as-a-service alternatives 
In place of cloning the IT systems, think about using a time-tested as-a-service system that would expeditiously shift the complete infrastructures from one business to the another. This would eradicate the need for sellers to manage the legacy system till the time the buyers get up to speed and take over the operations. 
Embrace the system
It is given that no single stakeholder will be able to offer the end-to-end digital capabilities that the business model transformation would call for. To address this, businesses will have to agree upon the closing models which are flexible, open, and are inherently collaborative.
Test the M&A model
We advise our clients to set up a minimal viable product model which the teams can use for stimulating the different sets of transactions. Doing this enables them to get an idea if the model would work or it won't. Moreover, it helps choose a third-party digital service provider that has the abilities to support what the business needs.
So here were the different facets of choosing to take the digital acquisition route. Now that we have looked into them, the only logical step left to do is get in touch with the Marquee team and start the M&A journey. We will help you get started with digitalizing the entire process in a way that the deal time comes down and you are able to benefit from M&A at a much wider scale. 
Reach out to our team, today!
Related Articles
We optimize & accelerate growth for already great products.
---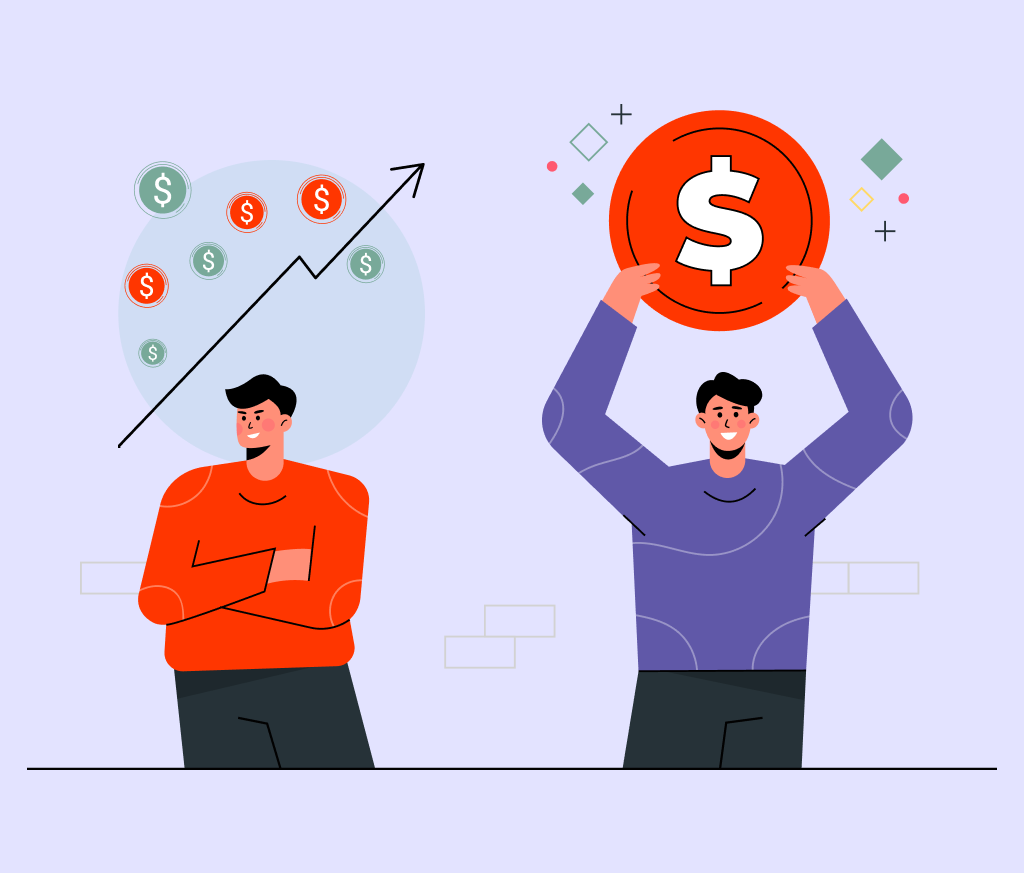 Venture Capital Funding: What You Need to Know
Venture Capital Funding is a dynamic financing avenue for startups, involving investors providing capital in exchange for equity. Key considerations include a robust business plan, team expertise, and market potential. The funding process spans various stages, from seed to Series funding, with exits through IPOs or acquisitions. Understanding this landscape is crucial for aspiring entrepreneurs.